Tamworth Angus Stud hits a sale high of $15,000 at first sale
Large crowd converged on "Sandown" Timbumburi, near Tamworth today to witness the inaugural Heart Angus on-property bull sale hosted by Natalie and Chris Paterson.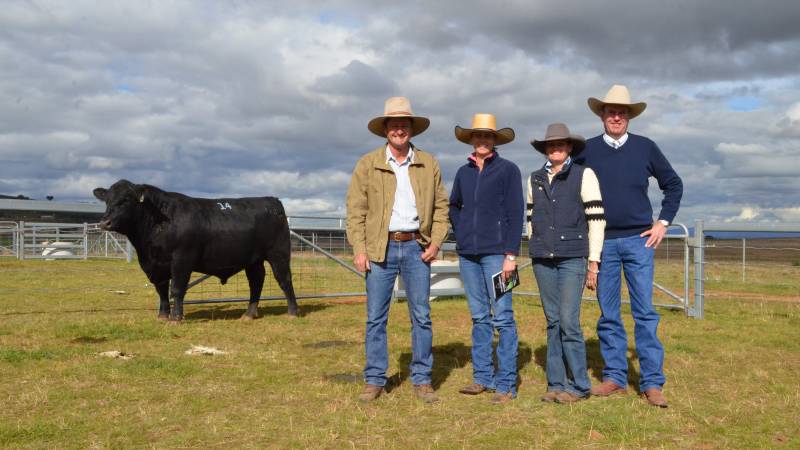 The $15,000 bull LOT 14; Chris Paterson, Heart Angus, Tamworth with top price buyers, Jane Randall and Sarah Hamilton, Barraba and auctioneer, Paul Dooley, Tamworth
Near 50 registered buyers helped clear the lot and set a sale average of $9517.
Twenty nine bulls sold to top at $15,000 with 15 bulls selling into double figures.
In the breakdown, thirteen 2016-drop bulls topped at $14,000 twice and averaged $9154 whilst sixteen 2-year-old bulls averaged $9812.
Jane Randall and her sister Sarah Hamilton from Barraba attended the sale on behalf of parents Peter and Dale Hamilton and came home with the "best bull in the draft" Lot 14
Heart Long Time L60, a 21-month old Premier Right Time G6 son weighing 910 kilograms and measuring a scrotal circumference of 44 centimeters.
Out of a N Bar Bando daughter, L60 boasted breedplan figures of +134 for 600-day, +77 for carcase weight, +4.3 for eye muscle ares (EMA) and +1.8 for intramuscular fat (IMF).
This was a first time purchase for the Hamilton's who run a commercial beef operation with 800 breeders consisting of mainly Angus.
They mainly supply feedlots with the blacks and plan to use L60 over the black females to achieve higher performance and higher growth.
Four bulls reached $14,000 in the sale with long time supporter Neil Higgins, "Old Crockford" Nowendoc, securing two of these bulls.
Mr Higgins secured a Connealy Confidence son and a Millah Murrah Doc H324 son both rising 2 year old bulls weighing 878 and 870 kilograms respectively.
Lot 13, Heart Longreach L26 measured breedplan figures of +3.1 for birth weight, +107 for 600-day, +63 for carcase, +7.2 for EMA and +0.5 for IMF and Lot 15, Heart Louis measured +2.7 for birth weight, +4.4 for EMA, +1.1 for EMA.
Mr Higgins has been purchasing from the Paterson family since the inauguration of the New England Angus Breeders sale and complimented the very quiet temperament of the bulls and weight gain influence they have on his herd.
The bulls will be used over a Hereford base with progeny targeted for local feature weaner sales annually.
$14,000 was also the top for the younger draft of bulls with Glen Innes stud breeder, Herb Duddy, Sara Park Angus securing Lot 3 Heart Ten Million M11, a 17-month old S A V Ten Speed son weighing 756 kilograms and Wendouree Grazing Company, securing Lot 4, Heart Mark Up M17 a 16-month old Plattemere Weigh Up K360 son weighing 768 kilograms.
Volume buyer was newcomer, Breck Johnston, "Glenbarra" Manilla who secured 7 bulls to top at $12,000 and average $8715.
Mr Johnston was looking for "the 2 T's – Temperament and Testicles" to compliment his commercial beef enterprise consisting of mainly Angus.
Stud principal Chris Paterson was overwhelmed with the sale result.
"It was well above my expectations and it was great to see a mix of return clients and new faces"